Research & Publications
Association with NASSCOM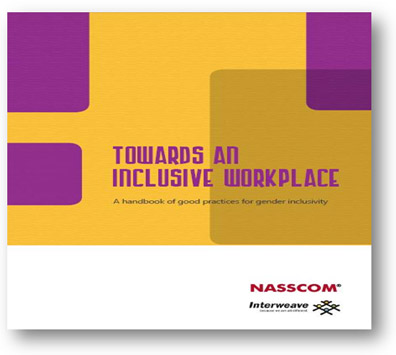 Interweave in association with Nasscom, compiled and published a report which looks at proven gender parity approaches including talent acquisition and retention, and personal and professional development, targeting the specific needs of the female workforce. Some of the best practices discussed in the handbook include Talent Acquisition (How to attract, search and select the workforce you need); Talent Management and Retention; Performance Management; Personal and Professional Development; Work Life Balance and Family Friendly Policies; as well as organisational culture and Inclusive Environment.
Association with CII
Interweave and CII partnered closely to launch "The Best Practices Guide for Attracting and Retaining Talent" at the CII's Women Business Leaders Forum.
Collaboration with University of Southern California
Interweave and University of Southern California collaborated on a joint study to understand the impact of their "Pathways to Success" program, aimed at growing women leaders in the corporate sector.
Objective
This article aims to present an innovative intervention model, Pathways to Success, created by a women-managed consulting and training firm in Bangalore, India, that supports the goals of female professionals to sustain and succeed in their careers.
Methodology
This exploratory study examines the effect of innovative interventions on female professionals experiencing workplace challenges through analysis of a) data obtained from case studies and feedback surveys from a large financial services organization and b) case study data from non-financial business organizations.
Participant profile
The population consists of over 500 female professionals, primarily married women, in early to middle adulthood, located across multiple Indian regions
Intervention
A new model, Pathways to Success, developed by professional women in India, provides their clients with the mindset and skills to manage their work-family demands. In a group-based setting using dialogue and social support mechanisms, women explore the significant struggles they face as female professionals, gaining awareness of the contradiction between their aspirations and their delegated gender roles within Indian families and the socio-cultural milieu. Skills-based training is a core component, building participants' skills in assertiveness, managing power struggles, utilizing work influence for success and creating a personal brand.
Key Results
Findings highlighted overall positive effects of interventions including identifying participant strengths, creating ongoing social support and learning new skills, despite study limitations.